Kivvit

---

Located in Washington, DC
Small Employer
Silver Level Workplace Award Kivvit's office in Washington DC office has about 15 employees here and has developed a breastfeeding friendly workplace over the past couple years with two nursing moms. While we don't distribute formal educational materials, we informally share tips and advice quite a bit.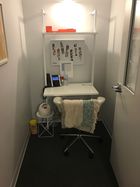 P.O. Box 29214, Washington, DC 20017 • Tel 202-470-2732 • email info@dcbfc.org
| | |
| --- | --- |
| | |
Medical Disclaimer: The information presented here is not intended to diagnose health problems, breastfeeding problems, or to take the place of professional medical care. If you have persistent breastfeeding problems, or if you have further questions, please consult your health care provider. The DC Breastfeeding Coalition does not share partnership with, or have any vested interest in, any of the businesses that may appear on this site, or sites that may be accessible by links herein contained.