U.S. Food and Drug Administration

---

Located in Silver Spring, Maryland
Large Employer
Gold Level Workplace Award The FDA building has 3 lactation rooms that are regularly used, on-line booking system, breastfeeding hotline, onsite IBCLC, and child care.

Statement from Employees:
The support I received from my supervisor and the nursing mothers program at FDA was amazing. We have a private, peaceful room to pump with a sink, fridge and hospital grade pump. There are monthly mom to mom seminars, support groups and lactation consultant available. I rave about the program to expecting mothers and feel very fortunate to have this nice place to pump. I credit the facilities with my ability to pump and exclusively breastfeed my two kids for their first year.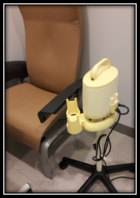 P.O. Box 29214, Washington, DC 20017 • Tel 202-470-2732 • email info@dcbfc.org
| | |
| --- | --- |
| | |
Medical Disclaimer: The information presented here is not intended to diagnose health problems, breastfeeding problems, or to take the place of professional medical care. If you have persistent breastfeeding problems, or if you have further questions, please consult your health care provider. The DC Breastfeeding Coalition does not share partnership with, or have any vested interest in, any of the businesses that may appear on this site, or sites that may be accessible by links herein contained.