US Department of Transportation

---

Located:Washington, DC
Large Size Employer
Gold Level Workplace Award

Employer's Perspective:
DOT is committed to providing its employees with the workplace flexibilities and resources necessary to maintain a healthy work life balance leading to improved employee productivity and engagement. As such nursing and lactating mothers are afforded the following accommodations per DOTs lactation room policy:


Reasonable Break Times - Covered employees are entitled to reasonable periods of time within the workday (break times) to express breast milk. Supervisors must allow an employee time to express milk. The frequency of breaks needed, as well as the duration of each break, will vary according to the individual needs of the nursing mother. Break times should not be monitored or treated anydifferently than other breaks. The nursing mother and her supervisor must work together to determine how to best accommodate the nursing mothers need to express milk, while balancing the duties and responsibilities of her position.
Lactation Room Accommodations - Nursing mothers are entitled to access to a private space to express milk. At a minimum, a lactation room should be a private room other than a bathroom that is shielded from view and free from intrusion of others. DOT currently offers two lactation rooms for registered employees to use; one in the West building and one in the East building.
Compensation - A covered employee is not entitled to compensation during break times for expressing breast milk. However, a covered employee may use any established break time (i.e., lunch or negotiated paid break periods) to express breast milk. Supervisors are responsible for ensuring compliance withapplicable collective bargaining agreements and precedence set on current nursing mothers accommodations.

Employee's Reaction:
The availability of the lactation room at DOT made it easier for me to transition back to work after my daughter was born. Further, it has helped to lessen some of the challenge of continuing to breastfeed an older infant as a working mother. The lactation room is clean, conveniently located, and easy to access. DOT provides two private pumping stations in the lactation room in my building, each with a hospital grade pump, and a refrigerator. The pumping stations have comfortable chairs and desk space, making it easy to either relax or continue working. There is a bulletin board to post baby pictures in the lactation room and a ready supply of reading material, including parenting magazines and handouts on nutritional information and womens health. In addition, DOT Worklife Wellness staff are helpful and supportive regarding breastfeeding and pumping needs.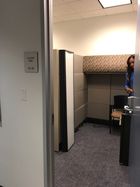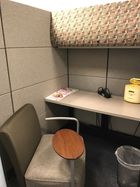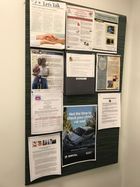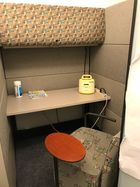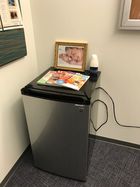 P.O. Box 29214, Washington, DC 20017 • Tel 202-470-2732 • email info@dcbfc.org
| | |
| --- | --- |
| | |
Medical Disclaimer: The information presented here is not intended to diagnose health problems, breastfeeding problems, or to take the place of professional medical care. If you have persistent breastfeeding problems, or if you have further questions, please consult your health care provider. The DC Breastfeeding Coalition does not share partnership with, or have any vested interest in, any of the businesses that may appear on this site, or sites that may be accessible by links herein contained.