USAID

---

Located:Washington, DC
Large Size Employer
Gold Level Workplace Award

Employer's Perspective:

The United States Agency for International Development (USAID) supports breastfeeding in the countries in which we work as well as in every one of our workplaces around the world. USAID has a longstanding practice of accommodating nursing mothers in the workplace and complies with all Federal guidelines. Since 2001, USAID has had dedicated lactation rooms to encourage and support breastfeeding mothers. Lactation rooms are made available to all USAID members of the workforce, regardless of hiring mechanism, in all USAID headquarters buildings.
The USAID Lactation Program, managed by the Staff Care Center (SCC) aims to enable a smooth transition for moms to have peace of mind so they can continue nursing after returning to the workplace. We understand the importance of establishing USAID as a family-friendly work environment, with benefits to the employers including reduction in health care costs, lower employee absenteeism, increase in employee retention, and increased employee morale and productivity.
Through the services of the Staff Care Center, USAID offers nursing mothers at every Agency location around the world access to a range of lactation services and resources, as well as additional Work-Life programs. The SCC-provided rooms are designed as a best practice to help mothers feel relaxed, comfortable, and supported by her workplace. These attractively furnished rooms are conveniently located within the office to provide access for mothers and children with minimal disturbance to the work environment. The rooms include comfortable seating, flat tables or surfaces, educational materials and resources, bulletin boards and mirrors; and are decorated with photo collections of the breastfed babies of USAID. All rooms are free from intrusion with locked doors, only giving access to only those mothers currently nursing and the necessary cleaning and maintenance staff. Furthermore, the rooms are equipped with hospital-grade electrical pumps, refrigerators and freezers for storing milk, storage for mothers attachment kits, disinfectant wipes, air purifiers, a telephone, and a water source, when available.

Employee's Reaction:

...overall USAID is supportive. Having access to the hospital grade pumps does save time on each pumping session and knowing that the pumps are in each USAID location room means I don't have to drag a 10+ lb bag between meetings in different buildings, so thank you for that!
The lactation consultant has been an invaluable resource to me. It's a real benefit that all USAID moms have access to these consultants...The lactation room in the serves as an informal support group.
Having such a well stocked lactation room and supportive work environment for pumping makes being a working mom an easier decision for me.
Very much appreciate the availability of the space and pumps. The strong support for mothers at USAID has actually been a factor in my decision to stay with USAID when approached with other job offers.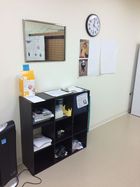 P.O. Box 29214, Washington, DC 20017 • Tel 202-470-2732 • email info@dcbfc.org
| | |
| --- | --- |
| | |
Medical Disclaimer: The information presented here is not intended to diagnose health problems, breastfeeding problems, or to take the place of professional medical care. If you have persistent breastfeeding problems, or if you have further questions, please consult your health care provider. The DC Breastfeeding Coalition does not share partnership with, or have any vested interest in, any of the businesses that may appear on this site, or sites that may be accessible by links herein contained.