Consumer Financial Protection Bureau

---

Located in Washington, DC
Large Business
Gold Level Workplace Award

Employer's Perspective:
We want to make returning to work after having a baby as easy of a transition as possible. We strive to provide lactation rooms for our breastfeeding mothers that are comfortable as well as functional. Even though we are currently in temporary office space our Facilities team has worked hard create a comfortable space including painting the walls a soft yellow and ordering reclining chairs for the lactation rooms. We are especially excited for our move to our newly renovated building next year which will have a private lactation room on each floor. We are committed to promoting work life benefits and want to encourage our employees need to balance work and home life.

Employee's Reaction:
When I arrived back to work in March, I was nervous about continuing my lactation routine because I was not sure if the CFPB had the resources available to transition back to work as a working mom...My manager was very accommodating and directed me to the Work Life team for additional resources....I was surprised to learn that the Bureau had multiple lactation rooms at our headquarters facilities on different floors... The decor creates a warm and relaxing environment for working moms. The private room boasts a deadbolt lock, comfortable chair, refridgerator, reading light and relevant motherhood articles, and a side table....Although the room is restricted to only those with the code, the room is accessible 24/7...All in all, the supportive culture and accommodating facilities made my transition back to work seamless. The Work Life and Facilities team are desrving of an award for their unwavering support on breast-feeding mothers in the workplace.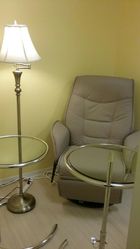 P.O. Box 29214, Washington, DC 20017 • Tel 202-470-2732 • email info@dcbfc.org
| | |
| --- | --- |
| | |
Medical Disclaimer: The information presented here is not intended to diagnose health problems, breastfeeding problems, or to take the place of professional medical care. If you have persistent breastfeeding problems, or if you have further questions, please consult your health care provider. The DC Breastfeeding Coalition does not share partnership with, or have any vested interest in, any of the businesses that may appear on this site, or sites that may be accessible by links herein contained.