Howard County General Hospital

---


Employer's Perspective:


As a hospital, we want to promote optimal health for our employees and their families. We are committed to breastfeeding support. We have many employees that have chosen to breastfeed. We promote 6 months of exclusive breastfeeding whenever possible, and especially want to make this achievable for our own employees. We are excited to have a room that is comfortable, clean, safe, and private; solely dedicated to pumping.
I love the room. I think its great and enjoy being able to pump in peace. I would suggest a hook to hang your coat on, everything else is perfect.

Employee's Reaction:

Being able to pump at work in a designated room promotes privacy and comfort. It gives me the feeling that my employer is invested in my well being as a parent. I intend to continue to exclusive breastfeeding until my baby's 6 months, and having access to this utility surely helps. My baby's 4 months now and thanks to HCGH; I've been able to work full time while keeping her exclusively on breast milk.
I think this is great to have. It gives breastfeeding mothers a nice environment to pump.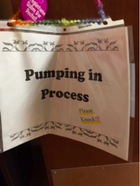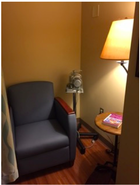 P.O. Box 29214, Washington, DC 20017 • Tel 202-470-2732 • email info@dcbfc.org
| | |
| --- | --- |
| | |
Medical Disclaimer: The information presented here is not intended to diagnose health problems, breastfeeding problems, or to take the place of professional medical care. If you have persistent breastfeeding problems, or if you have further questions, please consult your health care provider. The DC Breastfeeding Coalition does not share partnership with, or have any vested interest in, any of the businesses that may appear on this site, or sites that may be accessible by links herein contained.